Water
You always want to make sure your water is at a pH of 5.8. I calibrated my pH meter and then measured my tap and RO water. You can always then measure these two as a baseline to make sure your meter doesn't need to be recalibrated.
Tap water pH: 6.1 / RO water pH: 6.6
1.16.21-Tap water pH: 7.3 / RO water pH: 8.2
Here is a list of things you will need to calibrate your water.
2021.1.3 2100
First step is to simply drop your seeds into RO water. I would recommend a max of 5 per cup for 15 hours.
2 green crack seeds in RO water. 4 Jack Herer in RO water.
2021.1.4 1300
Seeds have been soaking for 16 hours moving to napkin in Ziplock, black bag, and box. Placed on Ether Miner for heat.
2021.1.5
Checked the seeds no growth yet.
2021.1.6
Two green crack seeds have sprouted so I'm going to move these to root riot plugs.
The four Jack Herer seeds have not yet sprouted so I'm going to stick them back in a ziplock covered in a paper towel, black bag, and box.
2021.1.7
Jack Herer seeds still don't seem to be germinating that quick. I'm going to leave them another day.
Also no sprouting in the humidity dome from the Green Crack plants.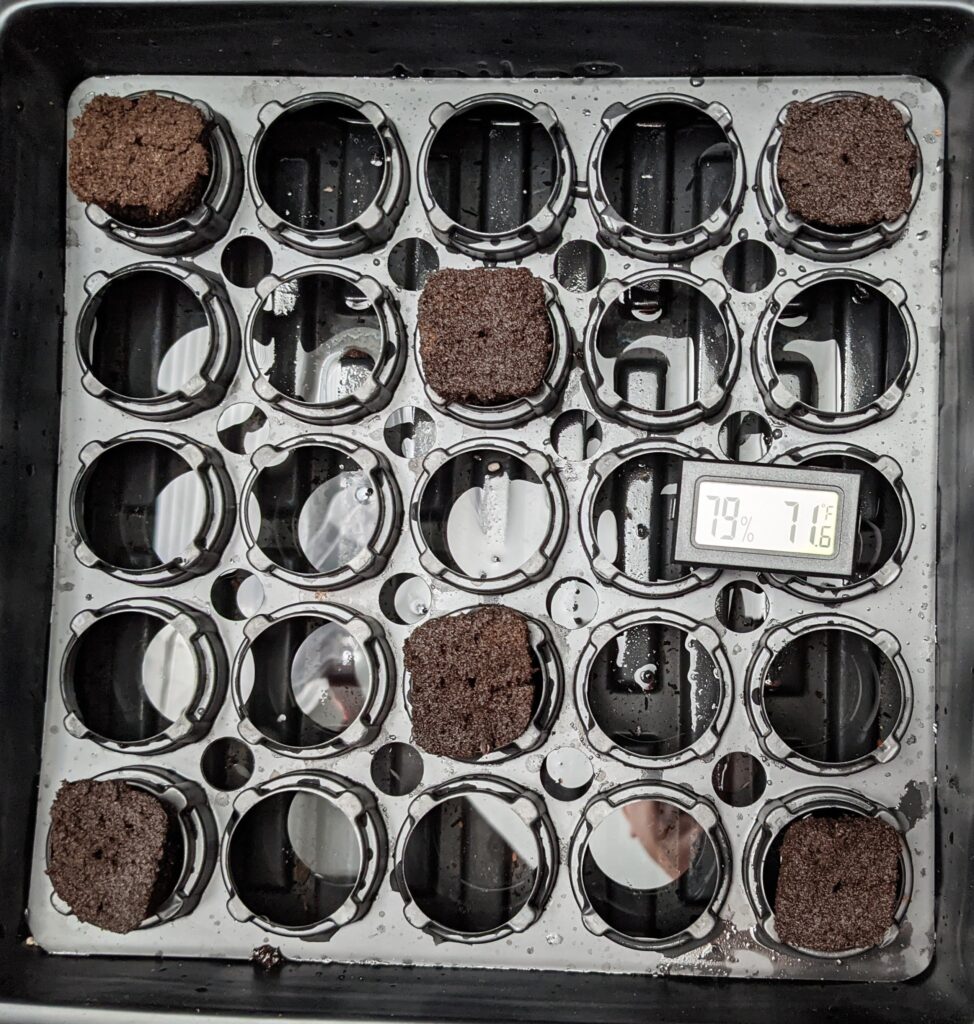 One of the Green Crack plants popped through in the pm.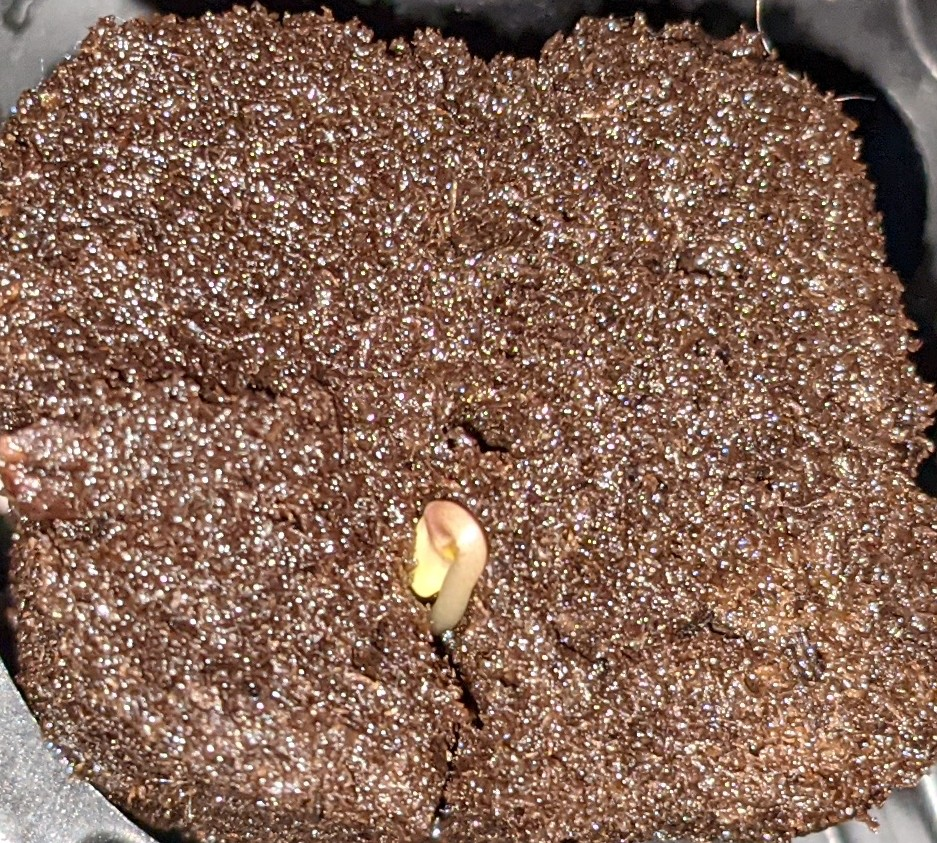 2021.1.8
So I probably let this Green Crack plant go for too long in the dark. I'm going to move it into the grow tent where it can get a ton of blue spectrum light. This will promote bushy growth vs. the red spectrum which will cause growth in length and is better for flowering.
I'm going to move all the Jack Herer seeds to the humidity dome with the exception of one which doesn't appear to have popped open. One of them appears to have broke when I moved it. I feel like I may have left my paper towel too wet.
Here is the placement of the seeds in the humidity dome.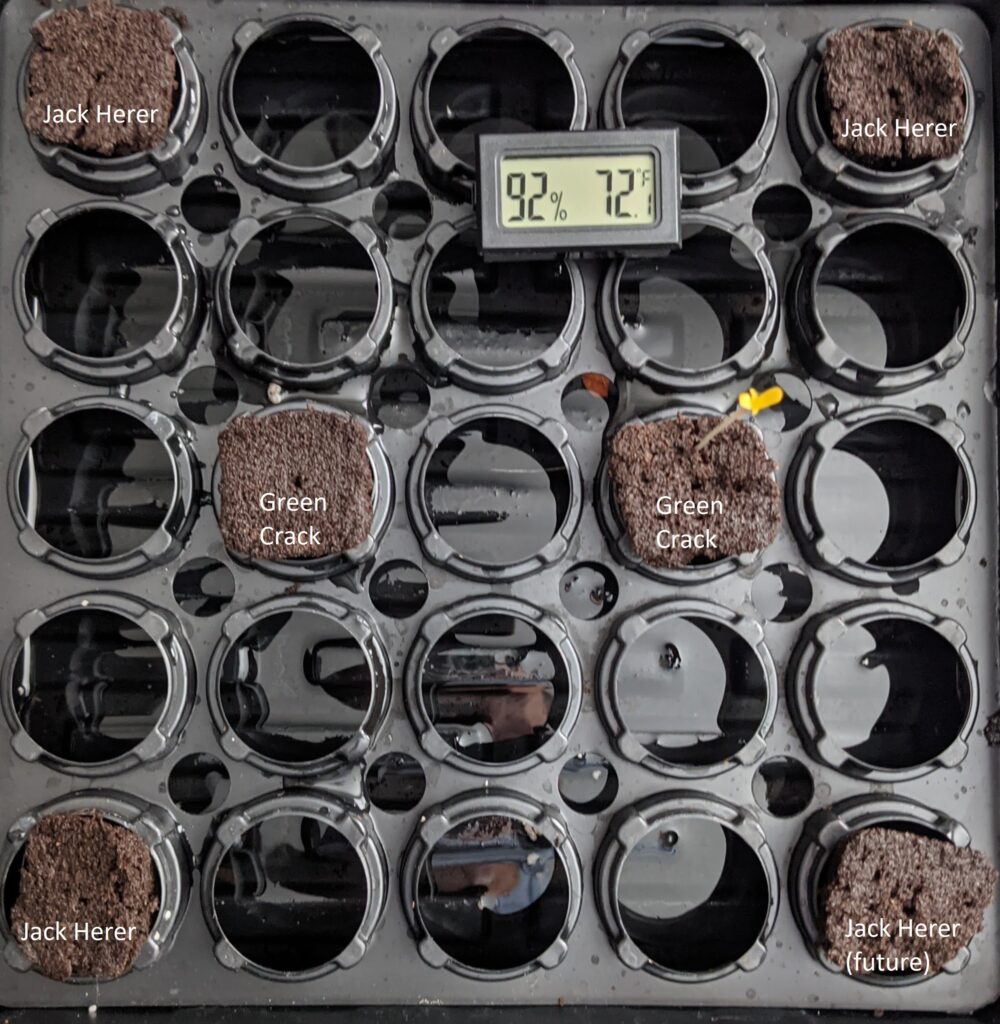 Humidity
You're going to want a humid environment for your plants. I would recommend something like this.
2021.1.9
Lights
Any of these smaller lights will work for the seedling phase.
Powerful LED's
You are eventually going to need something more powerful. This is what I use.
2021.1.10
Looks like all of the seedlings popped except one. Haven't added any water since the original move from the plastic bag. Also the last Jack Herer seed is refusing to germinate. I left it in the bag but typically when it takes this long they're duds.
2021.1.11
2021.1.12
Pretty sure that bottom left Jack Herer is shot. Plus the last seed doesn't appear to be germinating.
2021.1.14
Looks like roots are starting to appear. I'll probably move these to a hydroponic setup soon.
First nutrients
Now that these seedlings are getting a little older I'm going to add some Clonex nutrients. I'm going to mix up 1 gallon of water and 18mL of Clonex.

1.21.20
So I definitely got lazy and waited too long to move these into my hydroponic box in my window seal. You can see some of the leaves are in bad shape.
I'm going to put these in my south facing window seal for light. I'm going to supplement it with a florescent light 18 hours on and 6 hours off.